The oliveyard
The family farm at San Michele di Pagana

A traditional oliveyard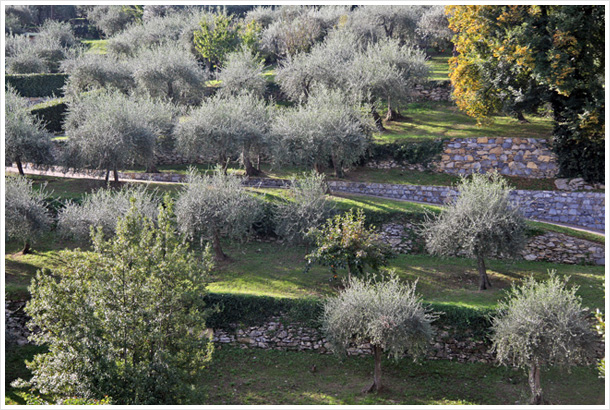 On the hill close to the bay of San Michele di Pagana, the oliveyard smoothly converges into the gorgeus view of a typical Liguria landscape.
The oliveyard is now running thanks to the enthusiasm of Carlo Uva and Paola Gais, the owners, who were resolute to restore and restructure a portion of an area which was let totally abandoned.
The old olive trees, overwhelmed by the wild vegetation, was recovered and put on production again thanks to a careful and skilful work. This way, the recover becomes not only intrinsic to the oliveyard, with its well-groomed trees and the traditional dry-stone walls, but also inherent to the local history, becoming close to the rhythm of life and to the authentic Ligurian traditions.
The profound attention of the owners to traditions and nature, is expressed through the production of extra virgin olive oil aiming to make the most of product quality.

The mild climate, the exposure to the sun, the peculiarity of a fertile and permeable soil, the cultivation techniques such as manuring and pruning, and the continuous monitoring of the plants on the territory which allows to timely plan the necessary interventions, are all factors which affect the quality of the oil being produced.
The production chain in fact begins with the olives harvesting during the month of October, indispensable condition to obtain this selection of high quality extra virgin olive oil, characterized by full flavours and an extraordinary balance.
The harvest is made according to the traditional hand methods, with manual tools and telescopic stakes for the knock down. The olives so harvested and stuffed into ventilated cases, are brought to the oil mill for the grinding.
The mill works continuously and solely on biological productions, thus offering a strong guarantee on the high quality of the product.
This is followed by other actions, like settling and bottling cared directly by Uva's family.

Their extra-virgin olive oil stands up for its high nutritional value and for its uniqueness; its favourable environment for development and suitable method of pressing concur to make Uva's oil an unparalleled strongly structured product, with high content of polyphenol, elegant and intensely fragrant.